Choosing the right size golf glove.
Choosing the right size golf glove.
Why having the right size glove is so important!
When it comes to your golf gloves, the correct fit is everything! If it is too big, it can cause unnecessary rubbing and soreness and if it is too tight the glove can easily tear.
Your golf glove is an important component for controlling your club during your swing, so it is important you get the right size for you.
Doing our research over the last few years has highlighted the fact that the vast majority of golfers actually buy gloves that are not the right size of them. We have put this guide together to help you choose your right size, so your glove may last a little longer and you feel the difference with your grip on the golf club.
How to measure your hand
To get to your correct size glove, you will need to take two hand measurements.
Measure from the crease in your wrist, just below the palm of your hand, to the top of your middle finger. This will give you the measurement for the length of your hand.
Measure circumference of your hand starting and finishing at the knuckles on the back of your hand. This will give you the measurement of the width of your hand.
We always recommend using a textile measuring tape so that it can easily wrap around your hand to get an accurate measurement.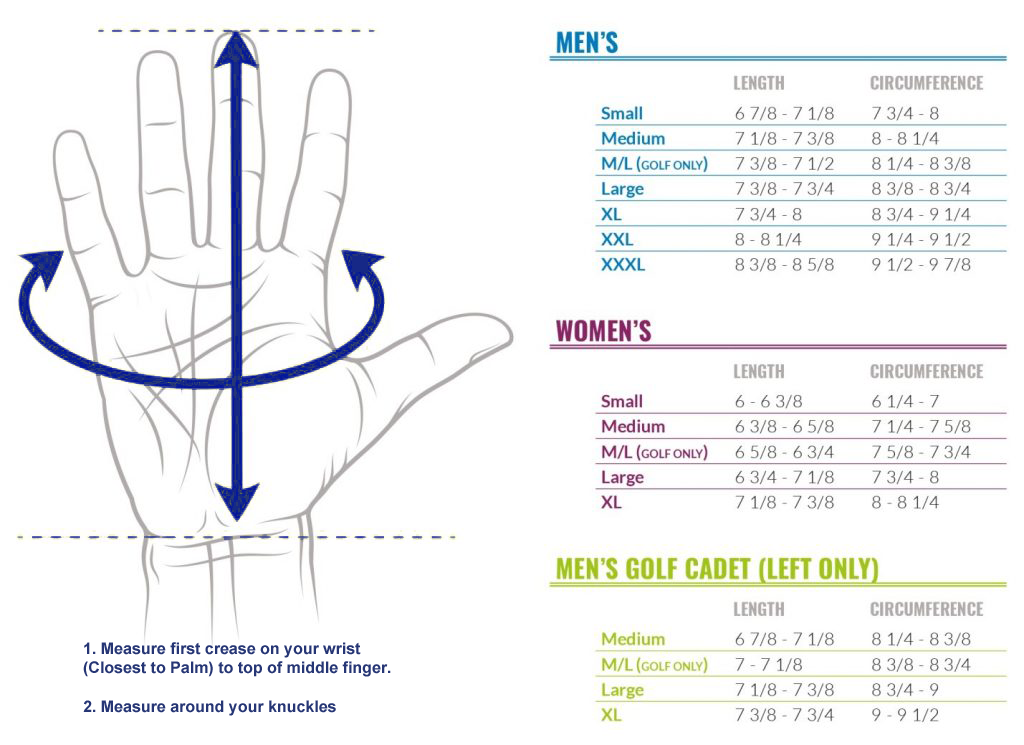 It is very important that your glove fits like a second skin, without any excess material at the end of your fingers. If this is an issue you may want to either size down or try a Cadet glove in your size.
There should not be any sagging on the back or palm of your hand.
You want your glove to feel tight, but not restrictive.
The closure tab should only come about 3/4 of the way across the back of your hand, leaving 1/4" of the Velcro uncovered.
This allows for any adjustment during your round.
Further tips for buying the right gloves
Remember to always measure the hand you will wear the glove on.
If you are a right handed golfer, measure your left hand. Lefty's, measure your right hand
AAA Premium Cabretta Leather like ours will give a little and mould to your hand over time, so please factor this into your decision.
If you are in between sizes, go for the smaller size.
Poor after use care will alter the condition of the glove and may change how it fits your hand over time.
Always keep your glove flat in a separate holder when not in use, to maintain its supple condition for longer.