2Under Premium AAA Cabretta Leather Golf Glove
2Under Premium AAA Cabretta Leather Golf Glove - 2Under Golf
2Under Premium AAA Cabretta Leather Golf Glove - 2Under Golf
---
---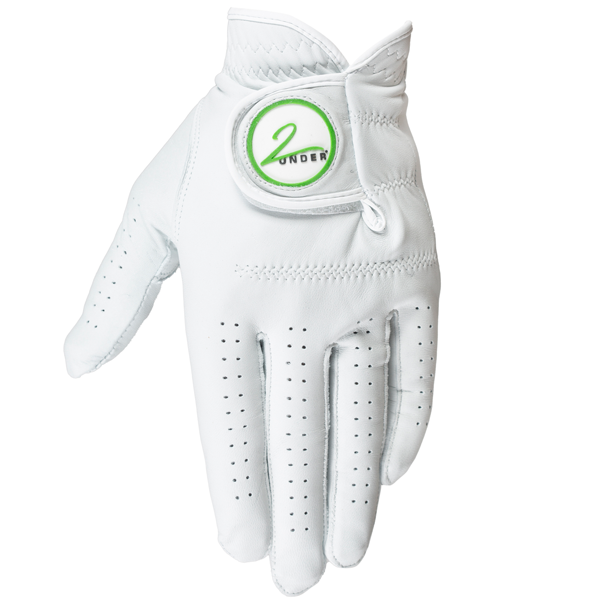 Send this to a friend
2Under Premium AAA Cabretta Leather Golf Glove
Product details
2Under Premium Cabretta Leather Golf Glove

Our AAA Cabretta Glove has been specifically designed for the golfer who requires a premium leather Glove.

The 2Under Glove is made from smooth Cabretta leather specially tanned to resist moisture and retain its comfortable fit.
A tour performance glove, this "2Under" Glove features the finest quality Cabretta leather with the thinnest and most consistent fit every time.
Tanned Cabretta leather offers superior water and perspiration resistance
Maintains grip, comfort and performance in all types of weather conditions
Offers consistent fit and feel
Delivers exceptional breathability
Outstanding club feel due to premium selected, soft, thin skins
Precisely placed seams do not interfere with grip
Velcro closure with "2Under" logo

NOTE:
These are a Tour quality Glove and designed for the Low Handicap Golfer. 
Higher Handicap golfers may find a quicker wear due to the thinness of the leather.
While your glove shouldn't rip, it is a natural animal skin product and weak points in the leather can occur.
If you have a question about getting a replacement glove, please email orders@2undergolf.co.uk with a picture and tell us what happened and we will work through your issue with you.
Product reviews
9 reviews
I had one of your gloves at the start of the season, and it is the best glove I have had in 30 years of Golf.
I have been using the 2under gloves now for a few months. Playing on tour, a player wants reliability and comfort on the course. I can't emphasise enough how reliable these gloves have been to me and how comfortable they are for practice and competition use. You won't be dissatisfied and I wish I could give the gloves a higher rating!
Fantastic golf glove and one the best ones I have ever had! Unbelievable quality at a great price. Please give these a go and you won't be disappointed. I would give 6 out of 5 stars if I could!
Fast Delivery, now that's customer service. Fabulous quality Cabretta leather gloves. Excellent. Will now buy my gloves here going forward. Best golf glove iv ever used.
Purchased three of these gloves in their recent 3 for 2 offer. Have to say I am very impressed with the quality and feel of each glove. They certainly feel as good if not better than the top Brands out there. Had one glove where the stitching came away around the velcro piping but the guys exchanged quickly and easily. can highly recommend 2Under gloves and are probably the best on the market at a great price.
Excellent fitting glove with great feel to the leather. Best fitting glove across back of my hand I've worn in years. Definitely on a par with the premium brand gloves out there.
Absolutely love these gloves. A premium Cabretta glove for less than half the price of the big brands! The durability is second to none and the softest gloves I have ever purchased.
As a professional golfer I need a glove that fits and feels right and this is what the 2 under Cabretta glove gives me, it also lasts longer then any other glove I have used in the past. The best one on the market for me.
As a very heavy practiser I go through a lot of gloves , but using the 2 under Cabretta glove I'm still on the same glove after a month and only now starting to show a little bit of wear in the thumb